More: Band - Kirk Syrett - Guy Lawson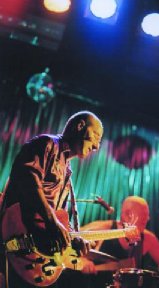 Born in 1971 to a musical family, John discovered Rock n Roll at an early age. Piano was the first instrument but difficulties in finding teachers who taught Jerry Lee Lewis riffs soon saw him take up guitar. Singing has always been a part of John's life (his Mother Betty has sung with many choirs and his Late Father Cyril sang as well as playing piano, accordion and harmonica by ear). When John was at primary school he always had the slicked back rocker hair and denim jacket on - getting dropped off in the Marsden's cool old Chevrolet car always turned heads! His older brother Chris had a hotrod gang at the time (and was building a Hemi powered Ford Model A) and that was an influence on him. Not long after that he heard The Cramps on the radio and that wild sound got him really interested! John started Wild Turkey while he was at Sherbrooke Community School rockin' by day and somehow getting into Melbourne venues to watch the Rockabilly and Blues acts of the mid to late eighties. At high school, his acoustic guitar was always at hand!!

Around 1990 John started performing solo, doing acoustic gigs as a sideline to the band. Song writing became a passion as soon as he could play guitar. Most of Wild Turkey's material having been written by John alone or in conjunction with others. The inspiration for the songs being based on real life experiences - Crazy adventures and some heartbreak too!
Musical influences include Hank Williams, Linc Wray, Dick Dale, The Sonics, The Cramps, ZZ Top, Eddie Cochrane, Gene Vincent, Johnny Burnett Trio, Hasil Adkins, The Atlantics, Bloodrock and many more!

One of the main passions in John's life is collecting Classic American cars. John's Father always had old Chevrolets which John still has a couple of - 1947 Ute as seen on the back cover of "Love That Kills", and a 1960 Belair. Ford's are amongst his favourites - the sound effects on "Ï Drove All Day" were made by John in his 1957 Ford Fairlane Town Sedan (very rare in Australia). A couple of early 1960's Lincoln Continentals grace the collection, which at present stands at over 50 cars! Others in the collection include a 1961 Thunderbird Convertable, 1936 Ford Phaeton, 1957 Ford Customline, 1957 Ford Fairlane, 1957 ford ranchero, 1956 Cadillac Fleetwood (which is John's vehicle in the USA for his trips) 1955 Cadillac Superior Landou Hearse, 1961 Cadillac Eureka Hearse, Many 1956 F100's and many Ranchwagons and even a bevy of XK Falcon Utes. There are many more!

The special band cruiser is the 1959 Ford Fairlane Hearse, which was Coach built by Smith in N.S.W. and is rumoured to be one of two made. Over 20 feet long and running a hot 390 Ford Big Block she's a great tour car! Heard on the album "Love That Kills", the hearse has also featured in the T.V. shows "kangaroo Palace", "The Lano and Woodley Show", "Good Guys Bad Guys" and in "Blue Heelers" . John too has appeared in many T.V. shows and films in small parts and as an extra, including "Neighbours", "Blue Healers", "Good Guys Bad Guys", "Queen of The Damned", and many others with the high light being a regular on the TV show "Stingers" - John worked on episode 1 and was in every series and in every episode in series 5, 6, and 7.

Equipment; Johnny's main guitar is also the first he ever bought - a 1962 Maton Supreme 777 Semi-acoustic (the first guitar of this model off the production line). It has a Bigsby arm fitted and runs custom gauge strings 11-49. For the slide on "Love That Kills" John used his 1960 Maton Starline semi-acoustic, and on some of the bands' instrumental numbers he uses his 1971 Maton G250 solid body with custom pickups and 13-56 strings. He also has a late 80's Reissue Paisley Fender Telecastor that really kicks ass! Other guitars used in recording included John's 1962 Maton Fyrebyrd and a borrowed 1950's Gibson 175 Semi Acoustic, a 1955 Gretsch 6120, and an early 1950's Fender Telecastor. For acoustic shows, John plays a 1981 Gibson J200 Acoustic.

For amplifiers; a 1962 Maton V606 valve amp (highly modified), a 1968 export Fender Bassman and a 1969 Fender Twin Reverb. The only foot pedal being an Ibanez T808 Tubescreamer. When Wild Turkey performs in smaller venues they use a vintage Fender 100 valve P.A., which for larger gigs they have been known to run in conjunction with their other two Fender valve P.A.'s, a 135 and a 160, getting a classic sound!